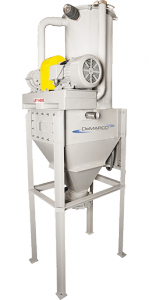 Did you know that for more than 45 years, DEMARCO Vacuums has been a groundbreaking pioneer in the field of advanced vacuuming technology? It's true.
Founded by inventor and industrialist, Thomas M. DeMarco, DEMARCO Vacuums holds numerous US, Canadian and other foreign patents related to vacuum technologies. More than just an industrial vacuum systems manufacturer, DEMARCO holds more patents than any other competitor in the industry—and this innovative spirit continues today.
DEMARCO Vacuum's revolutionary industrial vacuum technologies have changed the way people approach industrial cleaning jobs. Check out some of their patented technologies!
High Suction Vacuums With Positive Displacement Pump Technology: Thomas M. DeMarco patented the original large-scale industrial cleaner using high suction and positive displacement pumps to the marketplace in 1968 for the foundry industry worldwide.
Bag-Type Filter Technology: Also first utilized by Thomas M. DeMarco in 1968, this now outdated technology is still being used today on many competitor systems with either a manual shake or continuous air-pulse jet cleaning method.
Patented Laterally Offset 3-Stage 2-Compartment Material Separation Circuit: Exclusive to DEMARCO Vacuums, this technology ensures absolute minimal material carryover which greatly increases vacuum efficiency and performance.
Pleated Cartridge Filter Technology: Forever changing the vacuum landscape, DEMARCO was the first to introduce and use pleated filter technology in 1986. Featured in the newly patented DEMARCO Vacuum line, competitors who use pleated cartridge filters today do so thanks to DEMARCO's innovation.
Patented Silencer Base® Muffler Technology: Another exclusive DEMARCO feature, this technology's newly improved design provides unsurpassed low decibels. It's compact and aesthetic design makes it a superior option to competitor offerings.
DeMarco Industrial Vacuum Corporation continues its tradition of high quality manufacturing today with new and exciting innovations. Their team of skilled Engineers is ready to serve you. Contact DEMARCO Vacuums today to learn more about their products, services and capabilities.