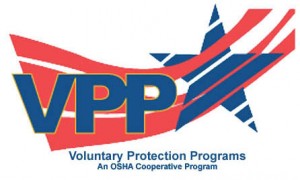 In our ongoing series of posts highlighting companies that have taken extra steps to satisfy Occupational Safety & Health Administration (OSHA) safety requirements in their Voluntary Protection Programs (VPP), a cooperative program that recognizes employers and employees who proactively prevent worksite injuries and illnesses, here we look at Tecton Products, LLC.
In 2011, the custom fiberglass pultrusions designer and manufacturer's Fargo, ND, location achieved VPP recognition through its commitment to continuous improvement in workplace safety and health.
Having already earned North Dakota's first Safety and Health Achievement Recognition Program (SHARP) designation for its safety and health management systems in 2005, Tecton Products formed a project team in 2009 to begin documenting the company's efforts in pursuit of VPP recognition. Following OSHA's VPP onsite evaluation in February 2011, Tecton was approved as a VPP Star site in August 2011. Due to its commitment to VPP, Tecton let its SHARP status expire in March 2011.
Through the VPP program, Tecton commits to a proactive approach to safety and health management while maintaining injury and illness rates below the industry average. The company's historical injury and illness rates have been significantly below the national average for its industry.
Between 2008 and 2010 alone, Tecton's "Days Away, Restricted or Transferred (DART)" incident rate was 78 percent below the national average for its industry. The average VPP worksite has a DART case rate of 52 percent below the average for its industry. During the same period, Tecton's Total Case Incident Rate (TCIR) was 20 percent below the national average for its industry.