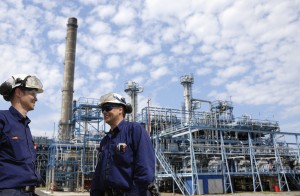 In our ongoing series of posts highlighting companies that have taken extra steps to satisfy Occupational Safety and Health Administration (OSHA) safety requirements in their Voluntary Protection Programs (VPP), a cooperative program that recognizes employers and employees who proactively prevent worksite fatalities, injuries and illnesses, here we look at Tesoro's Mandan oil refinery.
Located in Mandan, N.D., the refinery manufactures gasoline, diesel fuel, jet fuel, heavy fuel oils and liquefied petroleum gas, of which most are shipped via pipeline to the eastern part of the state and Minnesota. The facility has a daily capacity of 58,000 barrels, processing mainly low-sulfur domestic crude oil.
By focusing on continuously improving its workplace safety and health, the refinery has experienced a 45 percent reduction in injury and illness rates since 2004. The refinery earned VPP Merit recognition in August 2007, and in January 2011, it was designated a Star site, the highest level of recognition offered by OSHA's VPP. A VPP Star site maintains employee injury and illness rates below the national average for its industry.
Part of the Mandan site's safety successes can be attributed to its "Triangle of Prevention System" (TOP) incident investigation program, a worker-driven and company-supported safety and health program. The TOP program is a system-based safety program that uses a three-pronged attack on hazards in the workplace by identifying failures in the system, making recommendations to correct these types of failures and tracking the recommendations to completion.
Among the site's other notable efforts are its emergency preparedness and response teams, proactive hazard analysis systems and employee training systems.