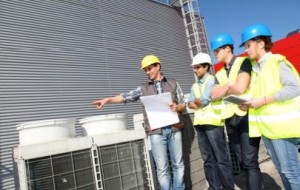 One of the worst-case scenarios for a business owner is an industrial accident causing property damage or personal injury to workers. One possibility could be an industrial accident caused by combustible dust, or tiny airborne particulates that can suddenly explode under the particular circumstances.
The National Fire Protection Association (NFPA) defines combustible dust as: "Any finely divided solid material that is 420 microns or smaller in diameter (material passing a U.S. No. 40 Standard Sieve) and presents a fire or explosion hazard when dispersed and ignited in air." Some typically well-known sources of combustible dust include: wheat grain, powdered sugar, lactose, powdered aluminum, and plastic resins.
As leaders in industrial hazard mitigation, we've been championing the practice of routine dust removal by vacuuming for years. Recently, in this space, we've even been blogging about the subject to get the word out. Here are a few examples:
The threat of a combustible dust accident is so alarming that the U.S. government has also gone to great lengths to educate the private sector about ways that businesses can mitigate the risks of one occurring. The Occupational Safety and Health Administration (OSHA) has issued very detailed guidelines for combustible dust mitigation.
The latest Safety and Health Information Bulletin (SHIB 07-31-2005) from OSHA on combustible dust, "Combustible Dust in Industry: Preventing and Mitigating the Effects of Fire and Explosions," lays out the agency's oversight scope in the regulation of combustible dust in the workplace. It states in part: "This Safety and Health Information Bulletin is not a standard or regulation, and it creates no new legal obligations … Pursuant to the Occupational Safety and Health Act, employers must comply with hazard-specific safety and health standards promulgated by OSHA or by a state with an OSHA-approved state plan … Employers can be cited for violating the General Duty Clause if there is a recognized hazard and they do not take reasonable steps to prevent or abate the hazard."
To help our customers understand the ramifications of the OSHA standards, we've put together an e-book that offers you a detailed overview of them, called Meeting OSHA Recommendations for Combustible Dust. We hope it will answer many of the questions you may have on this important topic.
Want to learn more about OSHA Guidelines?