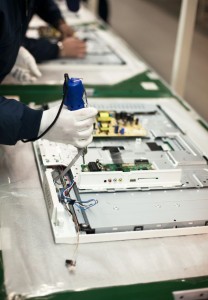 Did you know that the desired cleanliness level for integrated circuit manufacturing is far greater than the guidelines for general operating rooms, pharmaceutical production and even medical-equipment manufacturing by a factor of 10,000 or greater? That is why critical electronic components today are often assembled in clean rooms where HEPA (High Efficiency Particulate Air) vacuums are used to maintain clean conditions.
While electronics, semiconductor, high-tech, medical device and other crucial types of manufacturers operate clean rooms today, all of the effort and expense involved in creating an immaculate, if maintained properly, contaminant-free atmosphere could very well be saved.
Today, industrial vacuums are integral to the production and packaging processes of companies all across the electronics industry. Among innumerable applications, they help clean up debris in TV tube production and wire trimmings in plug-and-switch assembly lines, all to ensure high product quality. Ultimately, industrial vacuums help electronics manufacturers prevent product contamination, which in turn minimizes the expenses related to product reliability loss.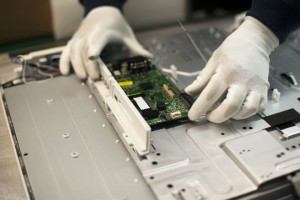 In electrical and electronics industries, where cross-contamination and the collection of ultra-fine particles is a key concern, the ideal industrial vacuum should utilize a HEPA filtration system, which removes 99.7 percent of particles that have a size of 0.3 microns, and they keep contaminants from re-entering the air supply. Because maintaining clean-room standards requires proper cleaning of all floors and surfaces, the HEPA-filtered vacuum should meet stringent standards in collecting and retaining microscopic particulate that can damage the most sensitive electronics equipment.