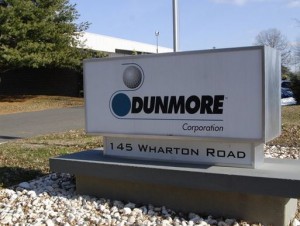 In our ongoing series of posts highlighting companies that have taken extra steps to satisfy Occupational Safety & Health Administration (OSHA) safety requirements in their Voluntary Protection Programs (VPP), a cooperative program that recognizes employers and employees who proactively prevent worksite injuries and illnesses, here we look at DUNMORE Corporation, a provider of engineered and laminated film.
Headquartered in Bristol, Pa., DUNMORE produces coated film, metallized film and laminating film substrates for a wide range of industries. In 2010, the company's film contract manufacturing facility in Bristol achieved VPP Star certification for superior workplace safety.
The VPP Star program is designed for exemplary worksites with comprehensive, successful safety and health management systems. Companies in the Star program have achieved injury and illness rates at or below the national average of their respective industries. These sites are self-sufficient in their ability to control workplace hazards. Participants are re-evaluated every three to five years, although incident rates are reviewed annually.
"DUNMORE has pursued this certification to enhance the framework to drive future improvement in our already strong health and safety systems," Tom Rimel, VP of operations and development at DUNMORE, said in a statement at the time. "Safety and associate well-being is a core value of the company, and we believe that no activity of our business is as important as associate safety."
DUNMORE's commitment to safety and associate wellbeing does not begin or end at its initial VPP Star certification. The company, which has been continuously improving its safety and health programs throughout its entire 40-year history, has also begun working toward VPP Star certification at its Brewster, NY, manufacturing facility.