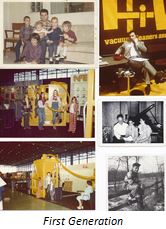 The DeMarco Family has been the leading patented innovator in industrial vacuum technology since 1968, but it wasn't until recently that the vacuum line's name reflected its inventor, Thomas DeMarco Sr. The current DEMARCO® Vacuum Line is the third generation of industrial vacuums from the DeMarco Family. Each generation of vacuums improved the wet/dry material collection process as the company has always been dedicated to providing their customers with high performance and superior quality products.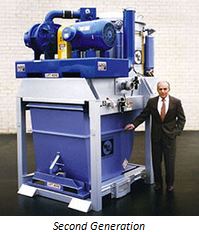 MAX VAC® was the second generation of industrial vacuums from the DeMarco Family. The line was launched in 1986 and revolutionized the vacuum industry with the addition of the Patented DEMARCO® 3-Stage, 2-Compartment Laterally Offset Cyclonic Material Separator Circuit and DEMARCO® Silencer Base® Muffler. The vacuums also implemented the pleated cartridge filter technology for the first time in the industry, an additional feature that enhanced the vacuum's overall performance and simplicity of design. Overnight, the bag-type vacuum filter became obsolete.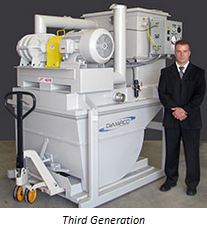 Committing to his father's innovative spirit, Thomas DeMarco Jr., President and Senior Engineer, improved and enhanced their industrial vacuum line again in 2010. This latest design has more advanced performance features including greater filter efficiency and improved filter air-to-cloth ratio, as well as a new aesthetic low-profile and exclusive compact design. In addition to these new developments, the line was also renamed DEMARCO®. The new vacuum name honors the company's founder, Thomas DeMarco Sr., the industry pioneer who dedicated his life to the continual improvement of vacuum system technology.
Today, the DeMarco Family, now in its third generation of vacuum engineers, continues to be the innovative leader in the development of superior vacuum designs worldwide.
The DEMARCO® Vacuum can also be customized to work in a wide variety of material collection applications. To learn more, visit the Technology and Performance page today. DEMARCO® – Vacuums Built for Industry™