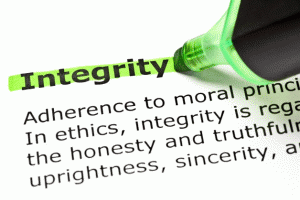 Today's increasingly conscience-focused marketplace and workplace demands more ethical business processes and performance than ever. As such, it's no surprise that a 2012 paper by the Center for Creative Leadership (CCL) indicates that integrity is the key criteria in determining success by top executives. "Interestingly, however, integrity is not the key criteria for success by middle managers according to performance ratings. For them, the study indicates that social intelligence – understanding the people and situations around them – is key," the Globe & Mail says of the CCL paper's findings. "And this means many organizations, when promoting their best middle managers to the executive suite, may be putting their weight behind people whose integrity has not yet been tested – and may even be missing."
Rather than highlight the role of character flaws in organizational or personal failures, the CCL research examines the importance of character strengths – integrity, bravery, perspective and social intelligence, in particular – in the performance of leaders in organizations.
Unsurprisingly, the paper concluded that all four traits are important and relate positively to performance. However, when the researchers looked at different levels of the organization to determine relative importance of the four aforementioned strengths, they found that some character strengths are more important than others, depending on leadership level.
For instance, the research suggests that social intelligence – the awareness of the motives and feelings of yourself and others around you – is the most important factor for success in the middle of the organization, requiring that middle management be able to get along, read other people and smooth over differences.
"[Middle managers] are tasked with communicating the vision of those at the top to others at lower levels in an organization," the report states. "Simultaneously, they have to engage with lower-level employees in the day-to-day, ground-level work of organizations and communicate the thoughts, information, and feedback of those employees to top-level executives."
Meanwhile, integrity and bravery were found to be more important at the top of the organization.
"The two may go hand-in-hand," the report continues. "Integrity is needed when deciding what action should be taken. Bravery is needed to take actions that might be unpopular."
Much as Silicon Valley became the center of the tech revolution, many metropolitan areas are beginning to see clusters of engineers, whose ingenuity and capacity for innovation will no doubt set a path for the future.